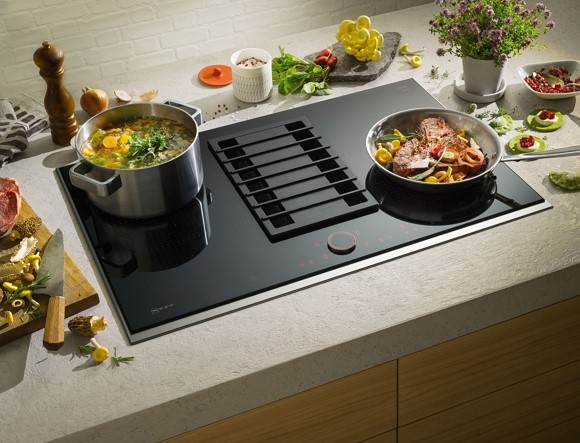 The open kitchens are trend. Enjoy a unique space without a trace of smoke, no odor or bells ...!
The need for a space to share the pleasure of cooking this novel plate extractor integrated arises NEFF. Combining the best of two major appliances in the kitchen, Flex plate induction with higher performance and sophistication of the best hood. A perfect appliance without fear to open kitchen to living room or small kitchen, where every centimeter is important.
The reasons are clear: installing a hood it is not required above the plate. In this way, win all the space you want and is much more transparent. In addition to space, because it takes even less than other extraction systems inside the cabinet, The advantages of installing the plate with integrated hood are directly perceived when cooking, because the smoke disappear instantly. And that have the latest technology to unleash your creations. And one more detail missing: Because the grill is cast iron, You can support pans without any problem once you've finished cooking and washing in the dishwasher when you need it.
From 28 th January to 1 st February, the chance to experience this feeling free cooking fumes and odors in an open space will be starring in Space Kitchen - SICI.
The plates with integrated extractor NEFF, this time, not go unnoticed. Fancy a violet flavored popcorn? Do you dare with a taste tex-mex or curry? Look for NEFF Points Pop Corn plate with integrated NEFF and do not miss these incredible flavors snacks during the fair extractor, until 6 different flavors!, a perfect way to whet your appetite and accompany the various activities taking place throughout the week of the kitchen.
We will wait for you! Tell us what your favorite flavor in Instagram @NEFF_ES, #cocinaNEFF.
More information in:
Web: http://www.neff-home.es/
Blog: http://lovecooking.neff.es/
Pinterest: http://www.pinterest.com/lovecookingneff/
Youtube: http://www.youtube.com/CocinaNeff
Instagram: https://www.instagram.com/neff_es/