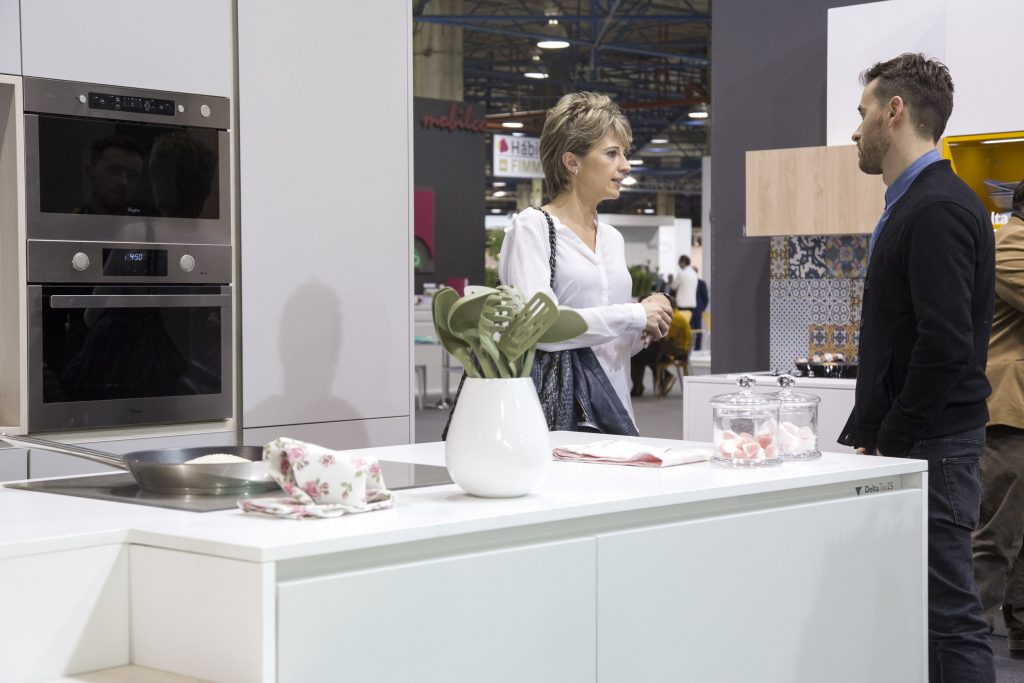 Visitors will see the foremost manufacturers of kitchen furniture, sinks, appliances, extractor hoods, furnishings, worktops and software. The showcase will be international with exhibitors from Italy, Germany, France and Portugal, amongst other countries.
Valencia, 20th January.- Espacio Cocina – SICI has already confirmed that more than a hundred Spanish and  international companies will be exhibiting at the forthcoming edition of the fair, which takes place from 20th to 24th February this year at Feria Valencia. The fair is supported by the industry's trade association, AMC, and has already signed 121 companies and brands up as exhibitors. This means that with two months still to go before the fair opens, its content is already set to be 25% bigger than last time.
The vast majority of the exhibitors are leading Spanish players in their respective fields and top international brands from countries such as Italy, Germany, France, Belgium, Poland, Norway, Greece and the USA, making the Feria Valencia event an international showcase of the first order.
A showcase of the best brands in the kitchen business
The advance exhibitor list, which is available to view now on the fair's official website, reflects the extent of the support being enjoyed by the only 100% trade-only fair for the kitchen sector to be held in our country. This is reflected in the kitchen furniture sector by the presence at the fair of brands such as Xey, Dica, Mobalco, Antalia, Pino Cocinas & Baños, Delta Cocinas and Faro. Another of the names that stand out are the mighty Italian group Berloni and Snaidero and transalpine brands FGF Mobili and MAB.
Other companies taking part from this segment of the industry include Ergo Kit, Mobilco – Cocinas Ecológicas, Zona Cocinas, Hobaca and Magama, together with a group of specialist kitchen table and chair manufacturers that includes Discalsa, Target Point (Italy) and Bailén.
There will be major brands from the worktop sector exhibiting as well such as Dupont, Dekton, Silestone, Sensa, Neolith, The Size, Compac, Sapienstone, Corian, LG and Hi Macs and porcelain manufacturers too – Inalco from Spain and Graniti Fiandre from Italy for example, plus Adama / Equs and Arbe Stolanic / Elegance Rak.
Another segment of the industry with a substantial presence at Espacio Cocina SICI is appliances and extractor hoods, with confirmed exhibitors including manufacturers such as Barazza, Bora, Cobain, De Dietrich, Frigicoll, Ilve, Liebherr, Smeg, Elica, Pando – Inoxpan, Fulgor Milano and Frecan. Bertomeu / Activa will be exhibiting as well, as will Italian manufacturer Sub Zero, Texelman / Lacanche and La Sommelière. One of the major exhibitors of kitchenware will be Tescoma. A significant contingent of technological services and software companies – including 2020, Benidorm Software, Innoplus, Kitchen Draw, Siscom, Virtualkitchen and Winner Design – will complete the showcase.
Espacio Cocina – SICI would be a powerful showcase even if all these exhibitors were all it had to offer, but the organisers are finalising a programme of events that will run in parallel with the commercial offering and will look at issues such as the new trends in kitchens, the role of the kitchen in the home, kitchen shops' new business model and design in the industry. Some success stories will be told too and there will be cooking demonstrations by famous chefs.
The fair takes place next month, from 20th to 24th February, in Feria Valencia's Pavilion 6. Espacio Cocina SICI will be running alongside and concurrently with Cevisama and the new materials fair, PROMAT (the latter is shorter: 22-24 February).