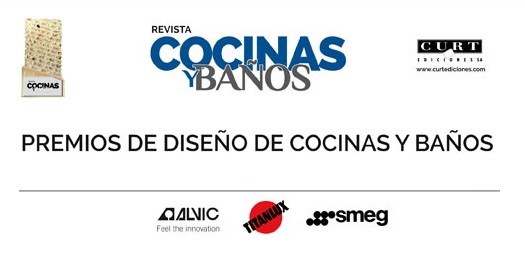 The process of selecting the finalists of the third edition of Design Awards has ended with a resounding success of participation. The list of companies and professionals who have been shortlisted in each category are published in various periodicals KITCHENS AND BATHS, as well as on the website www.revistascocinasybaños.es
In selecting the nominees of the established categories it is valued both excellence and the ability to innovate and provide solutions to help simplify the lives of its users.
This third call will end with the awards ceremony, which will take place within the framework of Space Kitchen SICI, the next day 29 January at 12.00 h. in the Agora SICI.
PROPOSED REFORM
• "Urban Beach Home" de Egue y Take
• "A reform in the Eixample" of Synchro
• "A professional kitchen" Circulo Cuadrado
Floor and wall tiles
• "Palm Springs" de Hisbalit
• "Continuous coating decorative technician Beal
• "Marbleous" the metropolis
KITCHEN FURNITURE
• Furniture "Dakota" Delta Kitchen
• Furniture "Siro" Auro
• "Nature" of Mobalco
COMPONENTS AND ACCESSORIES
• Series "Siena" Rock sinks
• "Infiniti" format
• Taps "Solenta-S Senso" White
KITCHENS DESIGN
• "Soho" of Doimo Cucine
• Model "Delta Ártica
• "PR-19" Project OB Kitchen
INNOVATION
• Lavadora "Duo" de Haier
• Double Oven "French Door" Viking
• Campana extractor desobremesa "Mythos" Cooktop "Franke
BATHS Latest Trend
• Shower column "Deck-T" (Round y Square) of rock
• "ShowerHeaven" de Axor
• "Duschopulsar" the Duscholux
WEB SITE AND SERVICES ON-LINE
• Estudio Kiese
• Torvisco Bathrooms
• Configurator Duscholux shower enclosures